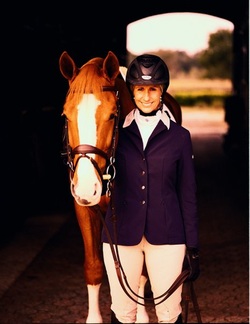 Wendy Peralta is the owner and operator of Seabreeze Farm Inc. located in Geneva, Florida. Seabreeze is a well known and respected training facility for top-level equestrian competition located in Central Florida. Horses are a family affair at Seabreeze! Wendy and her husband, Ezequiel train and manage students and horses to compete at the nation's finest shows. Wendy is also the of mother two professional children, Nikko and Trevor Ritter and her daughter Catalina Peralta is an active junior competitor.
Wendy has had a great career showing hunters and jumpers throughout the years. Some personal hunter highs include a win at Washington in the first year green hunters and assorted Zone and National Championships. Wendy also has a passion for the jumper ring and was the Chef d'equipe for the Zone 4 Young Riders Teams, winning a Gold medal in the National Junior Jumper Team Competition in Harrisburg, and earned the designation of Gold Star Jumper Coach at the 2017 USHJA Zone Jumper Team Championships. She is an active jumper competitor and is a Grand Prix winner herself.
Wendy has had a great career showing and selling horses, and also training students receiving the highest honors in their respective divisions. She has traveled to major horse shows nationally as well as Spruce Meadows and Lanaken.  Wendy coached the winner of the USET Talent Search East in 2007 and was awarded the best trainer trophy for that year. She also co-trained the winner of the THIS Children's Medal Finals in 2015. Wendy is a USHJA Certified Trainer and was TCP featured trainer of March 2015.
Wendy serves on governing committees for the USEF and is the current president of the Central Florida Hunter and Jumper Association. She is an R judge and has officiated at such shows as the Winter Equestrian Festival, the Zone 3 Washington International Horse Show, and the Franktown Meadows Hunter Derby in Reno, NV.
Some of Wendy's Career Highlights include:
2017 Low Junior Jumper National Horse of the Year – Coach – Chopin Z
2017 USHJA 1.20-1.25m Amateur Zone Jumper Championships, team and individual gold medalist – Coach – Endgame and Flora Manship
2015 THIS Children's Medal Finals winner – Coach – Catalina Peralta
2012 Awarded membership into the USHJA 1.40 Club
2010-2012 Numerous Grand Prix Placements Four Seasons and Cruz Z
2009 WEF Nations Cup – Coach – Ezequiel Peralta, representing Argentina
2009 Zone 4 Champion 5-Year Old Jumper – Owner, Rider, Trainer – Cruz Z
2008 Zangersheide World Young Horse Championships (Lanaken, Belgium) – Coach
2008 6-Year Old Young Jumper Championship winner (Hampton Classic) – Coach – Carambo Z
2008 Gold Medal National Junior Jumper Team Championships – Chef D'Equipe – Zone 4
2007 Silver Medal National Junior Jumper Team Championship – Chef D'Equipe – Zone 4
2007 USET Foundation Leading Trainer Award, USET Talent Search
2005 Calvin Klein Showjumping Derby Winner – Coach – Qroqant Z
2004 and 2006 ASPCA Maclay Regionals winner- Coach – Nikko Ritter
2000 Vermont Circuit Champion First Year Green – Tournesol
1999 Stoneleigh Burnham Jumping Derby Winner – Imco
1997 WEF Circuit Champion – Coach – Nikko Ritter and Curious George
1996 Circuit Champion HITS Ocala Pre-Green Hunter-Snow Hill
1991 Washington International Horse Show First Year Green Hunter Class Winner – Christopher Dragon